An interactive Santa Claus show
A magic Christmas show with an interactive talking Santa Claus projection on a tower.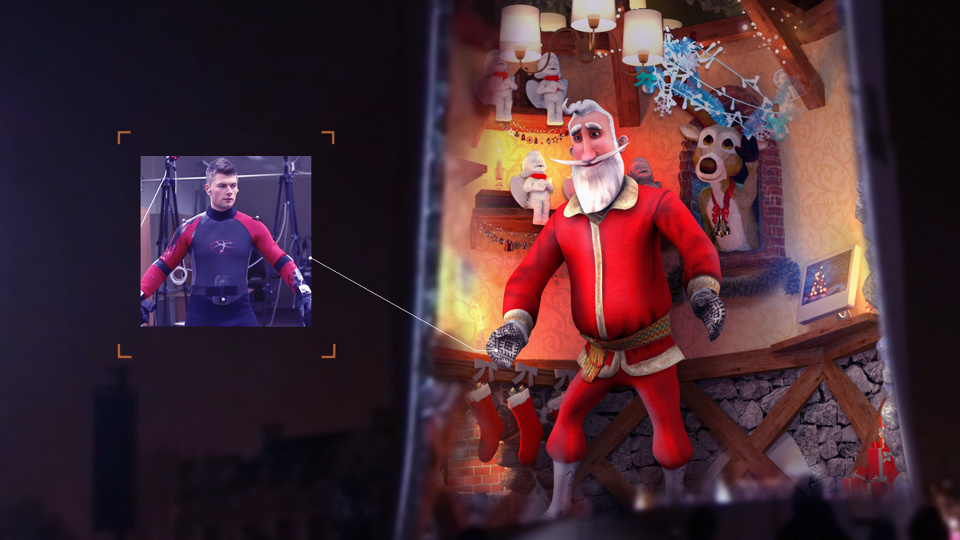 Christmas is a magical time, and nothing is more magical during that time than Santa Claus talking to you right from the Cathedral Tower wall. The 3D projection of talking Santa Claus created many warm memories as the spectacle brought to the passersby provoked their immediate reactions and left them with amazing impressions – especially the young spectators.

The Client
Our client is an industry-leading event organizer. Agency "Up" is made up of experienced professionals organizing high-quality conferences, public, marketing, and integrated communication projects.

The Problem
The team on staff at the agency always seeks to create exceptional and memorable events and this time agency "Up" needed an interactive solution to a public Christmas event. For the Christmas 2012 event, they needed a truly special 3D projection that took place in the breathtakingly beautiful capital of Lithuania, Vilnius, on a Cathedral tower. The event combines amazing public experiences and advanced technologies.

The Solution - Interactive Santa Claus Show
In early 2012 our client partnered with us and PM Screen to create a unique and interactive real-time 3D Santa Claus show that is powered by cutting-edge motion capture technology. We were responsible for delivering this advanced technological solution on time – extended deadlines, obviously, were out of the question.

We designed and developed a control system for an interactive Santa Claus avatar, which was controlled in real-time through six high-speed motion capture (MOCAP) cameras. The 3D Santa avatar is an animated 3D character enhanced with GPU special effects, micro motions, and dynamic lighting.

We also developed a dynamic composition of a real-time rendered avatars with a video streamed in the background to create a beautiful and warm Christmas atmosphere. This technology allowed us to create different secondary characters like dwarfs, deer, and angels. Secondary characters were able to jump in to create a story or sing karaoke together with the audience.
Conclusion
For this project, we combined cutting-edge innovative and modern technologies. Cameras, microphones, and display systems created warm, two-way communication between Santa Claus and the audience. Modern and versatile Linux multimedia systems, custom-made OpenGL engine GLSL shaders, voice control, and control of dynamic scenes took this show to a highly impressive and spectacular level.