An interactive castle ghost
An Interactive Attraction for Kids and Tourists – a Motion Controlled Animated legendary Knight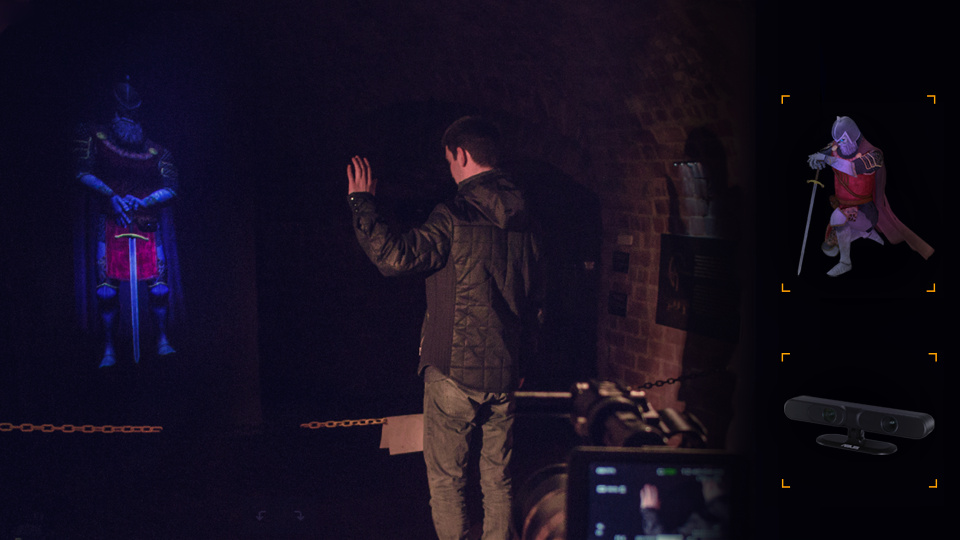 The Client
Kaunas City Museum needed an interactive way to attract visitors. As you know, every castle has its own legends, secrets, and ghosts and Kaunas Castle is no exception. Kaunas City Museum thought that recreating one of the legends of Kaunas Castle would be an interactive and engaging way to entertain museum guests.
The Problem
Kaunas City Museum partnered with Indeform to recreate a legend of duke Vaidotas and his warriors who supposedly are still on guard in the dungeon of Kaunas Castle and show it to the visitors of the museum. The elderly say that if the city is to face grave problems, the knight and his brave men will awake from the dungeons and rise to defend the old castle and the city surrounding it.
The Solution
Indeform, together with Kaunas City Museum analyzed the possibilities, selected modern interactive technical solutions, and designed the end solution. We created the potential scenarios, and the main character – an interactive Kaunas castle knight Vaidotas. We recognized from the very beginning who the visitors of the museum are going to be, so we put our best effort into creating a modern and jolly 3D ghost that would be motion-controlled, interactive, and very attractive to children and tourists.

To make the project come to life, we used projection equipment and skeleton-based motion capture. We also developed software, character, and animations. Our team and the Kaunas City Museum staff are pleased with the result. The interactive ghost has no time to waste or get bored, it brings children and tourists lots of joy and laughter, at the same time revealing its legend and the history of the castle.
Conclusion
We are happy to be a part of such a creative and informative project that not only is attractive but also teaches important historical events that took place in Kaunas and its dungeons.