An interactive virtual host
A virtual 3D avatar that interacted with the audience in real-time at a special celebrity event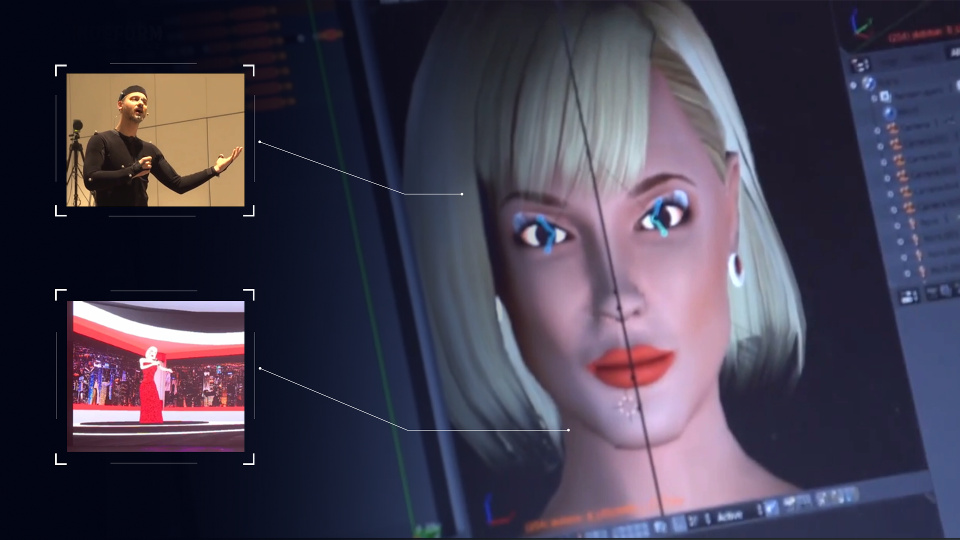 The Client
Publicum Events is Lithuania's leading events organizer, which is trusted by well-known local and international brands and companies. In 2016, they needed to enhance the 15th anniversary of the celebrity magazine Žmonės (Eng. People). It was a special occasion and Publicum Events wanted to create something exceptional and surprising.
The Solution - a virtual host
Indeform, together with Publicum Events came up with a solution. We created a beautiful virtual avatar as a host of the event, controlled by an actor behind the scenes.

We designed a 3D virtual staging environment. We modeled, rigged, and created small motoric animations for the beautiful 3D girl avatar, which was then attached to a full-body animation (real-time motion animation) with six high-speed motion capture (MOCAP) cameras. We used our custom-developed, versatile Linux multimedia system that is powered by OpenGL and GLSL to run a real-time motion-controlled 3D host avatar and dynamically combine it with a video streaming background to create a celebrity talk show-like atmosphere and environment.
Conclusion
According to the press reviews, it was another highly successful event by Publicum Events, and we are happy to know that our expertise and technology took this show to a new impressive and spectacular level.