An interactive Kaunas castle siege, 1362
An engaging Kaunas Castle siege reenactment for Web and mobile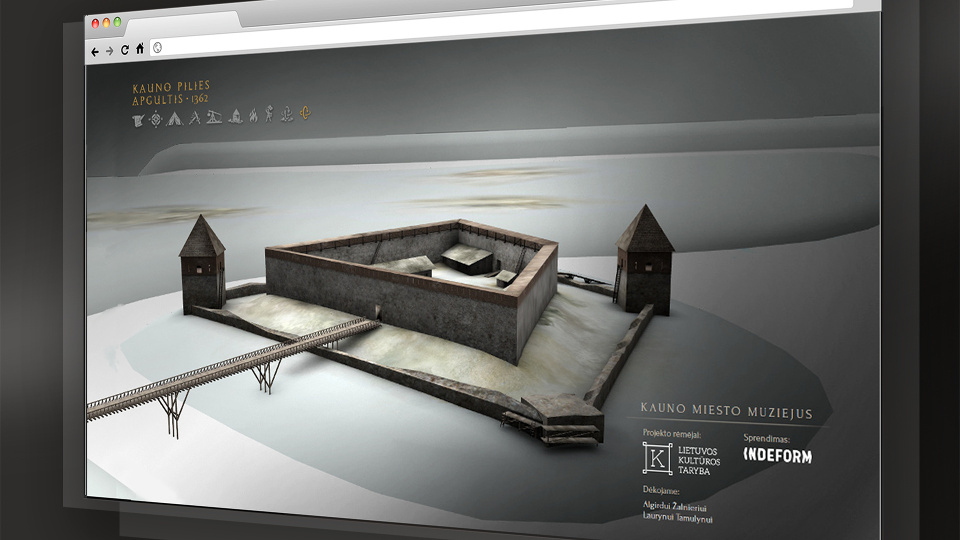 The Problem
Kaunas City Museum was actively looking for an innovative and easy-to-share online experience that portrays the history of Kaunas and depicts the siege of the first fortified Lithuanian castle – Kaunas Castle.
The Solution
Indeform partnered with Kaunas City Museum to create an interactive Web-based 3D representation of the siege, aiming to engage students and tourists of the city by telling this historical event on the Web browsers and mobile devices. From the very start, we worked on developing this project with a strong passion and interest. With the help of historians, archaeologists, and specialists of the Medieval warfare, we reconstructed a storyline of the siege battles and created screen boards.

Next followed all the artwork and designs of the Medieval castle, soldiers, and siege weapons. We created a low poly 3D model of the castle and villages around. Working with the specialists of Medieval warfare, we reconstructed the soldiers and siege weapons as well. All models had to be optimized to run on our 3D WebGL engine developed in-house.

Later, as 3D content and assets were ready to go, we animated and programmed all the interactive parts of this virtual exhibit. We also optimized the representation of the siege to run on Web browsers and mobile tablets so it could be used as an interactive demonstration on tablets in the museum expositions.
Conclusion
The interactive Kaunas Castle siege 3D Web presentation developed for Kaunas City Museum is a great and successful example of sharing, introducing, and educating students and tourists about the important moments of Lithuanian history. It helps people learn virtually and participate in historical moments by making them active participants. We are very happy and proud of our cooperation with Kaunas and Kaunas City Museum.