Muscle Beach in Venice, California
A world-famous gym area needed an interactive 3D online experience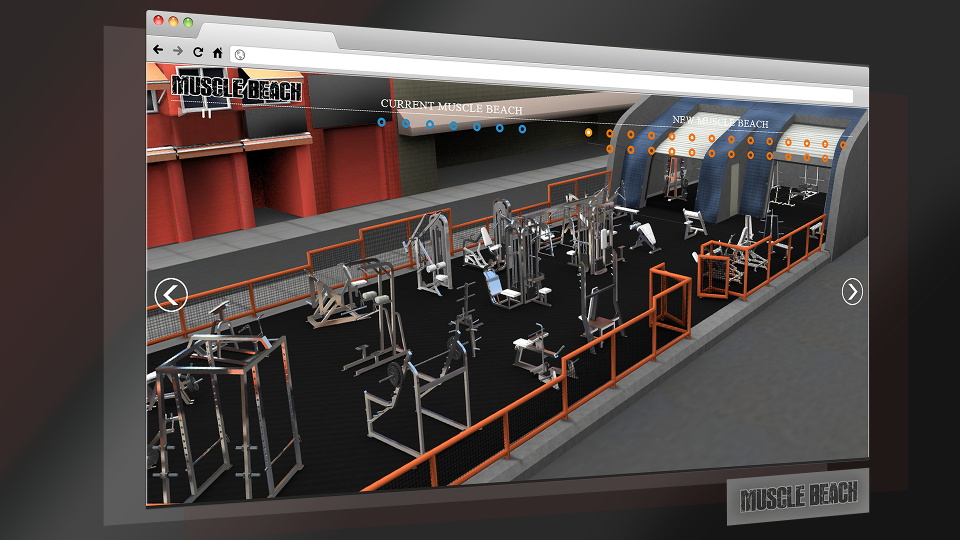 The Client
Muscle Beach has its roots in an exclusive Santa Monica beach, the birthplace of the physical fitness in the US during the 20th century. The beach was established in 1934, with mostly gymnastics activities on the south side of the Santa Monica Pier. Muscle Beach Venice was officially given its current name in 1987 by the City of Los Angeles. The contemporary Muscle Beach Venice is located two blocks north of Venice Boulevard on Ocean Front Walk in Venice, California, USA.
The Problem
Muscle Beach is the most famous gym area in the US and has great history and a lot of famous names associated with it. In 2014, they were looking for an innovative and shareable way to introduce the entire new vision of the reconstructed Muscle Beach Venice gym area. They partnered with Indeform to build an immersive and interactive 3D online experience that could be shared with the press, online followers, and visitors on the Web and mobile devices.
The Solution - Interactive Visualization of Muscle Beach in Venice
We were tight on time and eager to start, so we dove into working on it immediately. Despite having only some photo references and a rough sketch plan of the area, our 3D artists recreated 3D models of the gym machines and the area itself.

Next, they actively cooperated with the client to create visuals of the future Muscle Beach – the newly reconstructed gym and polished gym machines. As 3D and texturing work was done and ready, all 3D assets and textures were moved to our new custom-made 3D WebGL engine. Developers made sure that all the programming, interactivity, and optimization tasks were done and ready on time and on budget.
Conclusion
Muscle Beach Venice is a great place for fitness enthusiasts as well as experienced professional bodybuilders. We are extremely happy that we were trusted with designing and delivering a new interactive vision and exclusive online experience of this nice historical place in sunny California.