Paezeriu Manor 3D Interactive Museum App and Tour
This interactive museum tour, powered by augmented reality, is an innovative and engaging way to learn about the architecture, culture, and activities conducted in the manor in the 18th century.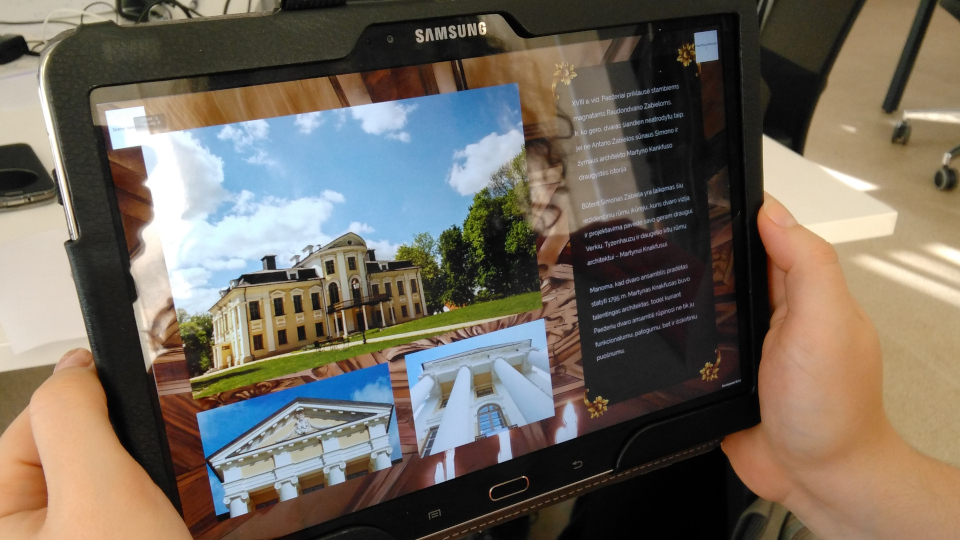 The Client - Paezeriu Manor Museum
Paezeriu manor is a true pearl of Lithuanian cultural heritage. To some it resembles old greek or English architectural masterpieces, to others — even the Palace of Versailles. Located in the southeast of Lithuania, the manor house was built between 1795-1799 by the orders of Simonas Zabiela and reflects neoclassical architecture. Our client — Paezeriu Manor Museum — wanted to increase the popularity of the manor house by inviting visitors on an interactive museum tour through the two floors of the manor as well as buildings around it. We partnered with the museum and created an interactive augmented reality tour.
The Solution - Interactive Museum Tour App
Upon arriving at the manor, every visitor is given a tablet with Paezeriu manor interactive museum app. As soon as visitors launch the app, they're greeted with a 2D animated video of Jonas Vailokaitis, a signatory of the Lithuanian Independence Act. He introduces the manor and invites everyone to come in. The visitors then go inside the manor and explore a plethora of halls, rooms, and lodgings. The manor is decorated beautifully on the inside: visitors see the exquisite neoclassical architecture, murals, ceiling decorations, and chandeliers.

On their journey through the manor, visitors are presented with sever augmented reality features. They're asked to point the cameras of their tablets to the windows, ceilings, or a bed and watch former residents of the manor come alive and interact. 3D visualizations of the local legends, historical events, and murals teach about the life of the rich in Lithuania in the 18th century and implemented augmented reality technology visualizes life on the manor.

When the inside tour of the manor is finished, everyone is invited to come outside and discover the surrounding buildings and landscape. Visitors have a chance to enter the museums of ethnology and household. They're also invited to climb up a tower, where breathtaking views of the landscape open up.
Conclusion
Paezeriu manor museum app was created with a goal to increase the popularity and interest in the local culture, customs, architecture, and history. We are proud to be a part of such an innovative and interactive project.