An interactive 3D installation explainer
An interactive 3D rainwater system installation instruction for Web and mobile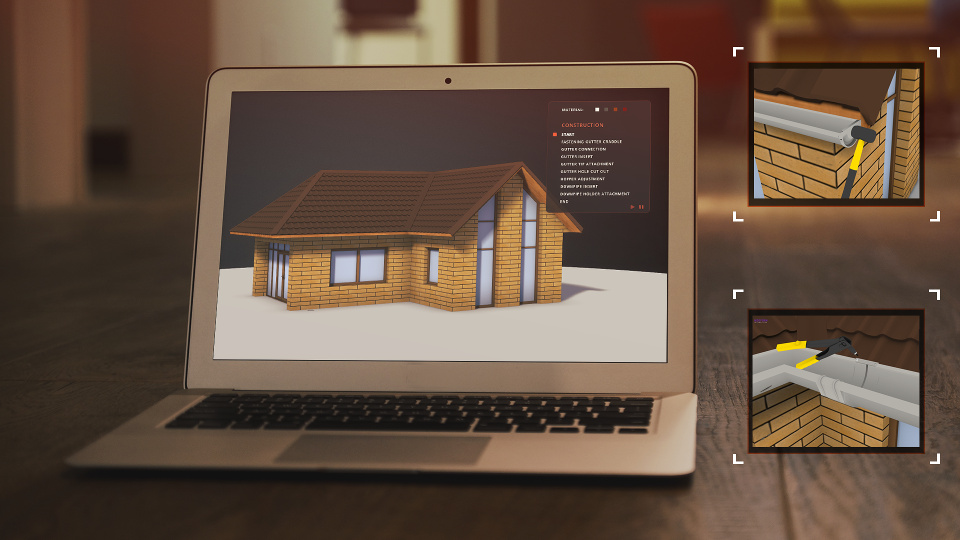 The Client
Ruukki Corporation, headquartered in Helsinki, is Finland's largest manufacturer of steel products and constructions. The company consists of three business areas: construction (Ruukki Construction), engineering (Ruukki Engineering), and metals (Ruukki Metals). It produces and supplies metal-based components and systems to the construction and engineering industries. Their produce includes such items as cabins and chassis for heavy vehicles, hot rolled steel plates, and coils, roofing sheets as well as building and bridge structures.
The Problem
Ruukki Construction also develops high-quality roof and rainwater systems. The company needed an explainer video of an installation guide that would provide instructions for assembling the rainwater systems in an interactive way. The client also wanted the video to be easily shared, accessible on the Web, and mobile.
The Solution - Explainer Video with 3D
Ruukki partnered with Indeform to create an interactive online demo video depicting the installation of the rainwater system. We worked closely with the client to create sketches and script for the sequence of the installation steps. Our 3D artists created 3D models of the rainwater system parts and tools required to assemble the rainwater system. We divided the process of installation into ten separate steps and created preparation and construction animations for each. All 3D assets and textures were then transferred to our customized, developed in-house 3D WebGL engine, in which programmers completed the interactive presentation and put everything in place.
Conclusion
Interactive 3D online video explainers on Web browsers are a great way to promote a product or service as users become active participants of the learning process. Instead of simply watching the installation videos and being passive observers, the viewers get close to hands-on